Hi :)
I had planned on taking pictures and video for my own tutorial on this, but there's been a bit of cold sharing going on in my house so I'm a little under the weather at the moment.
[I might still do this in the future so just keep your eyes peeled for it :)]
However, I have found some great videos for you to learn the 3 different ways to join your granny squares!
Michael Sellick
of
The Crochet Crowd
is amazing! I learned how to crochet through his wonderful
YouTube
tutorials, so I am very appreciative of him and all that he does for the yarn and crochet community.
For this first method,
you will be learning how to join your granny squares using the
single crochet joining
method.
~~PART I~~
~~PART II~~
For the second method,
you will be learning how to join your granny squares using the
join as you go
method.
And lastly,
you will be learning how to join your granny squares by
sewing them together
.
This video shows how to sew them together with a whip stitch:
And here is a way to join your squares with an
invisible seam
: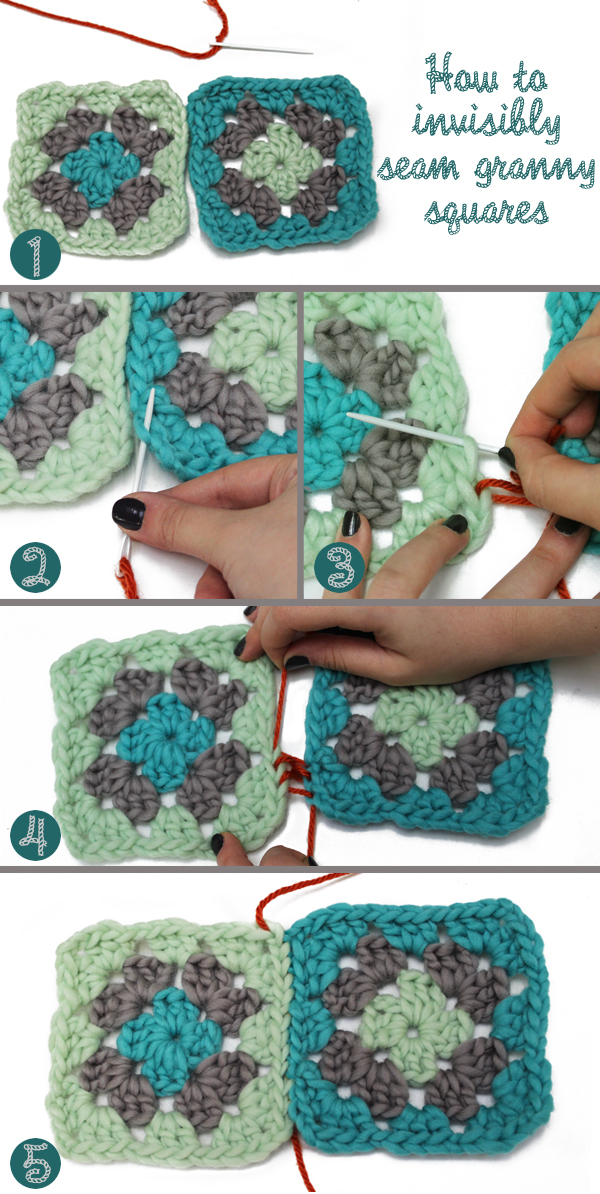 (via)
Step 1: Gather your materials: finished granny squares, a blunt needle, and your seaming yarn (I used a contrasting yarn for demonstration, but you may want to use matching yarn). Lay your granny squares side to side with the front side facing up.
Step 2: Insert your needle into your first crochet stitch from the back to the front.
Step 3: Repeat Step 2 on the opposite side. Continue this process on each stitch, alternating between sides. It's sort of like lacing shoes.
Step 4: Ready for that seam to disappear? Lightly pull on both ends of your seaming yarn.
Step 5: Repeat with all squares, and that's all there is to invisible seaming! Remember to weave in your ends and enjoy your new granny square project.
Here is a link to tutorials that show 10 ways to join!
I hope these videos helped you decide which way you want to join your squares.
Keep an eye out for a future re-do of this 'tutorial' and have fun making something amazing with granny squares!
You can follow Michael/The Crochet Crowd at these sites, as well as the links above:
FACEBOOK
•
RAVELRY
•
BLOG
•
TUMBLR
•
INSTAGRAM